No destroying angel can touch us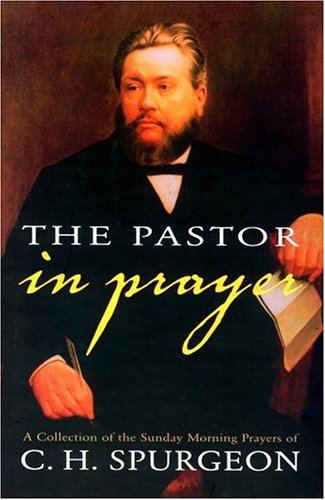 Our residency has been reading The Pastor in Prayer this month, and it has been a powerful book so far. What great prayers, what firm conviction! What a heart for the church, for the nations, for the lost!
Such high praise is well warranted. This afternoon's prayer, from "Intercession for the Saints," stood out especially to me. Here is but a taste:
…our Father, we would earnestly ask that every believer here may feel the power of the sprinkled blood most vividly and consciously. May we hear Jesus say by it, 'Ye are clean, clean every whit'; and may we have a sense of entire security, because Thou hast Thyself said it – 'When I see the blood I will pass over you.' This is the blood of our passover, and no destroying angel can touch us.

Now, Lord, next to this give each one of Thy children power to become the sons of God in their actions. May we become more and more like the Firstborn; may we begin to exercise our sonship by conquering ourselves. Help us to put down sin. May every sinful thought be driven out, and every thought be brought into captivity to the Spirit of God. Oh, help us to be perfectly consecrated to Thy service, because we are the children of God. May we not live like children of the devil, neither serve him, nor serve our affections and lusts.

C. H. Spurgeon – The Pastor in Prayer, pp.113-14
One thing that stands out is the application of the blood of Christ as foundational to the exercise of our adoption. Often, we don't even know what or how to pray. So no mere feeling gives us confidence to face the life and death that Christ calls us to. It is more than wishful thinking or private introspection that grounds our final triumph in the war against sin. We are called to rest in the sacrifice once offered that has redeemed us, welcomed us, and saved us both from the just penalty for sin and the wrath of God toward sinners. We are to know – Spurgeon prays that his hearers will have – "a sense of entire security." For our imitation of Christ, our defeat of the lusts and desires of the flesh, our sanctification, rests not on our feelings of readiness, our constancy of mood, or the circumstances of the day. It rests entirely in the shed blood of Christ.
So as we pray, may the Spirit guide our minds to his Word, and may we rest on his promises:
Likewise the Spirit helps us in our weakness. For we do not know what to pray for as we ought, but the Spirit himself intercedes for us with groanings too deep for words. And he who searches hearts knows what is the mind of the Spirit, because the Spirit intercedes for the saints according to the will of God. And we know that for those who love God all things work together for good, for those who are called according to his purpose. For those whom he foreknew he also predestined to be conformed to the image of his Son, in order that he might be the firstborn among many brothers. And those whom he predestined he also called, and those whom he called he also justified, and those whom he justified he also glorified.

Romans 8:26-30
Paul pursues the point further, reflecting on the surpassing love of Christ Jesus, but I have said too much already. I rest here. Oh, Lord, increase our devotion to prayer and give us humility before your Word!