Dessert for New Year's Eve
Went to the grocery store, buying potatoes and sparkling grape juice to round out beef stew and New Year's Eve festivities, respectively, and saw pears. That means…
Poached Pears.
The possibilities are maybe not endless, but certainly numerous. I went for a cinnamon, clove and vermouth poach this time. This I topped with an orange whip cream.
5 pears of unremembered heritage, peeled, cored and quartered

I used 1 cinnamon stick, 1 tsp. whole cloves and 1/2 tsp. vanilla extract.

So far, so good.

That looks tasty.

Kim appreciates the delight that is mixing the orange whip cream with the poaching liquid.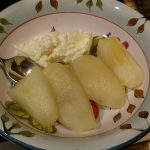 Print Recipe
Cinnamon and Vermouth Poached Pears
Ripe pears poached in vermouth, cinnamon and cloves.
Servings:
10
(half a pear per person)
Ingredients
1.5

cups

dry vermouth

2.5

cups

water

1.5

cups

sugar

5

pears

peeled, quartered, cored

1

cinnamon stick

1

tsp

whole cloves

1/2

tsp

vanilla extract
Instructions
Bring vermouth, water and sugar to a low boil.

Add pears to pan, with cinnamon, clove and vanilla extract.

Keep at low boil for 20-25 minutes, or until cooked through.

Cool to desired eating temperature. Or don't. You do you. It is excellent right out of the pan, but will likely melt your ice cream or whip cream!
Notes
I suggest serving with ice cream (vanilla bean!), or whip cream.
Orange Infused Whip Cream
A basic whip cream with zest of orange
Ingredients
1

cup

heavy cream

1

tbsp

confectioners' sugar

zest of one orange
Instructions
In a big bowl, whip cream until peaks are forming. Gently stir in zest and sugar.

Store any remainder in the fridge. Remember to use it though. No one wants to deal with wasted whip cream.